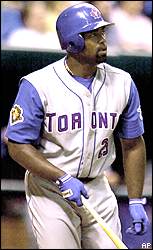 Carlos Delgado has been around the game for quite some time–he made his major league debut back in 1993 with the Toronto Blue Jays when he was still a catcher. 17 seasons and 473 home runs later, Delgado is back in the American League East where he started his career, as the Red Sox signed him to a minor league deal as they attempt to replace Kevin Youkilis, who is out for the year thanks to a thumb injury.
Delgado looked like he was on the way out in 2007, as his bat speed had visibly slowed and the mistakes of pitchers were the key to whatever success he could muster. Things changed in 2008 though–while he started off poor and had an Isolated Power (Slugging Percentage minus Batting Average) of just .173, something clicked in June and Delgado's power returned–he would hit .291/.374/.580 for the rest of the year (a .289 ISO) and while yes, this happened in the National League, it also happened in pitcher friendly Shea Stadium.
While his hip injury that required surgery cut his season short, the same surgery that kept him shelved until this past weekend, the 37 year old first baseman picked up where he left off, hitting .298/.383/.521 in 112 at-bats in a park that cut into power production even more severely than Shea. Delgado is 38 now, and coming off of major surgery, but as far as available options go, you would be hard pressed to find something with more appeal or upside than two months of this guy.
PECOTA projected Delgado to hit .270/.342/.489 at the start of the season, but a few things have changed. First, PECOTA, like any projection system, doesn't know he missed time with a significant injury. Second, this projection is for Citi Field, which had a reputation as a park designed for pitchers before it even opened its gates for the first time. The important point to take away is his projected True Average (which is adjusted for park and league difficulty) of .288, as that is right around the league average for first base. Throw some optimism in since we know things projection systems do not (such as that Delgado is now healthy, and his lack of appearances had little to do with fading away production wise) and the fact he gets to hit in Fenway, and the Sox may have themselves a nifty short-term replacement for one of the most productive players in the majors.
If you want to be very optimistic though, PECOTA's 70th percentile forecast for Delgado saw him at .278/.362/.512 with a TAv of .298 (for reference: Ryan Howard currently has a TAv of .302). If Delgado is healthy and he can get his timing down while he plays in Pawtucket, there's a very real chance he could be a force in the middle of the lineup, for however brief the time period is as the Sox try to stay in the race.