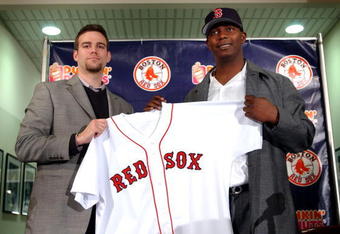 Congratulations to the San Francisco Giants, especially to old friends Freddy Sanchez, Ramon Ramirez, Javier Lopez and Edgar Renteria (EDGAR RENTERIA!). As you now know, Renteria won World Series MVP, an honor he sealed when he blasted a 3-run homer off of Cliff Lee in the 7th inning of last night's deciding game. Incredibly, Renteria has earned an indelible place in baseball history. Here is the list of the top-25 performances by WPA over the last 50 World Series clinching games (playing for the winning team):
Renteria's .256 number from last night's contest does not yet appear, but it will. He is the only player to appear twice on this list, and has probably done as much in World Series deciding games to seal a championship for his team than any position player in baseball history. It's remarkable.
==========
What stuck out to me when I read Pete Abraham's* David Ortiz update last week was this Papi quote, apparently offered during a WEEI interview:
"I just want to cut out all the crap and go back to the guy I was before, a happy guy who doesn't have to be answering questions that have nothing to do with anything but controversy. I just want to be able to play baseball and have fun, like I used to,'' Ortiz told WEEI.com Thursday. "That's where I came back to not wanting just one year, because I know it's going to be just the same thing.

"As soon as you struggle for a week, it's going to be the same thing. People saying you are old, saying you have no bat speed anymore. People talking all kind of crap. It's hard to avoid that because it's all over the place. You're a regular human being just like everyone else. It's not like you're in a cage, locked up and you come to the field and that's it. It's not like we don't watch TV, listen to the radio, read the newspaper. We are all connected to that stuff, especially here.''
A couple things. First, it's pretty remarkable to me that Ortiz thinks any scrutiny he's fielded has had anything at all to do with his contract situation. When one of the great hitters in the history of the Boston Red Sox scuffles for an extended period of time, it's going to be a story. That would be the case regardless of his contract situation.
But let's play along with Ortiz here and entertain the prospect that his contract status played a role in how fans and media treated him. I don't want to speak for others but I know that if the Red Sox for some reason decide to extend Ortiz for, say, three seasons, and Ortiz sucks out of the gate, I will be much more pissed concerned than I would be if 2011 were to be Ortiz's final season. An extension will only invite more scrutiny for Ortiz. I think he might just want some more dough.
Second, I really don't like it when a player catches flak only because he makes a lot of money. It's not all a giant trade-off the way some seem to think. As Ortiz notes, he's human and the emotional ups and downs of anyone's career can be difficult to manage from time to time. BUT, Ortiz comes off pretty tone-deaf here. Ortiz made $13 million in 2010, and has made north of $71 million in his career. For fans paying the second highest ticket prices in baseball amid historic economic tumult, Ortiz's words have to grate a bit. Whether the Red Sox pick up his option or not, whether he gets a multi-year deal or not, Ortiz has it pretty good. He should acknowledge as much.
Parsing athletes' words isn't the most enthralling material to address, but Marc has the baseball side of the Ortiz story covered, and this interview stood out for whatever reason.
*Pete Abraham blocked me on Twitter. I'll admit that I can get on sportswriters sometimes, but I thought his decision smacked of childishness. Basically, I mocked him once for his treatment of J.D. Drew and then I called him out because he rushed to judgment on the Patriots' decision to release Randy Moss during the first half of the Pats-Ravens game a few weeks back. The best part of Abraham blocking me is that he implored me not to be so "sensitive" before doing so. Anyway, pot, kettle and all that. As a Yankee friend said to me (Abraham covered the Yanks before the Red Sox), "Pete's got rabbit ears and can't take it when anyone gets on him."
==========
One of the baseball off-season's joys is Baseball America's Top-10 prospects for all 30 Major League organizations. It started yesterday with the Baltimore Orioles. The Orioles have graduated a lot of talent to the big club and their 2010 finish should offer hope. But the system looks thin at this point, something altogether understandable given all the youngsters they have contributing up in Baltimore.
While their system might not yield much in the way of immediate returns, top prospect Manny Machado should be worth the wait. He's 6'2″, 180 pounds and he absolutely mashes while projecting to play an acceptable shortstop. You know, just like Cesar Izturis.
==========
Speaking of the Minor Leagues, the Red Sox have six of their prospects competing in the Arizona Fall League, and here is how they've performed.

	           DOB	        POS	Final 2010 Level 	IP	K/BB
Seth Garrison	8/13/1985	RHP	Salem (A+)	       6.2	1.80
Jason Rice	5/13/1986	RHP	Portland (AA)	       8.0	4.00
Daniel Turpen	8/17/1986	RHP	Portland (AA)          5.0	1.50
Casey Kelly	10/4/1989	RHP	Portland (AA)	      16.0	2.75
Eammon Portice  6/18/1985       RHP     Portland (AA)          6.1      6/0

	          DOB	        POS    Final 2010 Level    PA      OPS
Jose Iglesias	1/5/1990	SS	Portland (AA)	   35	  .618
Ryan Lavarnway	8/7/1987	C	Portland (AA)	   57	  .792
Juan C. Linares	9/7/1984	OF	Portland (AA)	   37	 1.156

To keep tabs on such matters, I think most of you know to check in regularly over at Sox Prospects.